To borrow a line from the famous Julie Andrew's song, "these are a few of my favorite things." It's a list I've been wanting to put together for awhile now, and this is just a beginning, but it will give you some food for thought, literally and figuratively. 🙂 I realize we don't all necessarily have the same tastes,  but if you're looking for some ideas of new things to try, then here are a few I highly recommend…..
# 1 – Living Intentions Salsa Verde and Tandoori Turmeric Popcorn flavors and Sprouted Nut Mixes
The Salsa Verde flavor of Living Intentions popcorn is made with organic ingredients, including fresh ground spices, aromatic herbs and zesty chilies. But it also contains the superfood goodness of spirulina, chlorella and kale, plus they've added 2 billion CFUs of friendly probiotic cultures in each bag to support immune health and promote well-being. This flavor started out as my favorite, but I think the Tandoori Turmeric may be taking over 1st place in my heart and stomach. It's hard to resist eating the whole bag when it comes to either of them.
The Living Intentions Activated Superfood Nut Blends I've tried are equally addictive. I can eat a whole packet at once, if I don't make a concerted effort to stop. Love the Malted Maple and Thai Curry flavors that contain things like raw cashews, sprouted almonds, coconut chips, coconut palm nectar, plus the 1 billion CFUs of probiotics in every super snack product Living Intentions makes.
# 2 – Hilary's Organic Veggie Spicy Sage Sausage
Haven't gotten around to trying Hilary's maple-flavored veggie sausage because I was hooked from the get-go on this spicy offering. Sometimes I don't even get around to cooking the eggs or whatever that I'd planned to go with the sausage and just end up eating a couple of patties fresh from the toaster oven or skillet.
You'll find these in the freezer section of your local health food store, along with Hilary's veggie burgers and  Mediterranean Bites, which I like to eat with whatever kind of dunking dip I happen to dream up.
Ingredients: (all organic) whole grain cooked millet, lentils, dates, expeller pressed coconut oil, hemp seed, psyllium husk powder, Redmond's Real Salt®, arrowroot, fennel, black pepper, sage, thyme, rosemary, smoked paprika, nutmeg, cayenne
# 3 – Green Hare Mud Natural Hair Color
It took a few tries of working with this product line to get the hang of things, as far as what color to use and how long to keep it on my hair during the coloring process. But now I'm a big fan and I love that it's totally natural and you could probably even eat it, if you were so inclined. The color I use (Soft Bamboo) sort of smells and looks like powdered cut grass, which was a little scary at first, but now I have using it down to an "exact science" to get the color I want. I should have, as the directions say, done a "patch test" first, before I tried it on my whole head and that would have helped my first try come out closer to what I expected/had in mind.
Here's an excerpt from the Green Hare mud site…..
Q.  What are the 7 Colors of Green Hare Mud, and what's the most popular?
A.  Our most popular color right now is Green Hare Mud Cinnamon Mosaic a dark warm brown.  We have an amazing golden blonde called Soft Bamboo, a strawberry blonde to light warm brown shade I named Tahitian Tea, two great reds, Canyon Clay, a "born with it" kind of redhead and Merlot Mist for a deeper red with red wine tones.  There is Cherokee Suede (velvety, like suede cloth, not animal skin)  a reddish brown and Espresso Double Shot an amazing super dark coffee brown; it's truly like looking into a cup of espresso!
Q.  Do you think using only pure and natural ingredients makes it harder to formulate effective hair coloring products?
A.  No, not harder, just different. The way we process the hair color is almost mirror opposite from chemical hair color, because we do not use harsh chemicals, gels or foaming agents. The hair starts freshly shampooed, still  wet, just towel dried and then it is processed covered to prevent the need for wetting agents.
Clients are delighted to know that Green Hare Mud is not only good for their hair, but has beautiful shine and rich color that you cannot get with chemical hair color!
# 4 – Emerald Essentials Chocolate Action Whey™ Powder and Emerald Sea™
This has been my favorite protein powder for years now. Every time I try something new, I always end up coming back to this. It's extremely high quality, tastes delicious and comes from a company I like supporting with my dollars.
You can find out more about Action Whey™ and Emerald Sea™, which, I believe, is one of the best sea vegetable supplements out there, on my website.
# 5 – David Wolfe's Longevity Hot Sauce® 
I love this stuff on everything from eggs at breakfast to soup at night. If you like a little kick to your guacamole, salad dressing, soups, or whatever, then this health tonic masquerading as a hot sauce is great to have on hand.
You can find out more about all the health benefits of the ingredients here.
# 6 – Simple Mills Rosemary & Sea Salt Almond Flour Crackers
Nutrient dense, grain and gluten free, non-GMO verified and made with almonds, sunflower seeds, flax seeds, cassava, tapioca, organic sunflower oil, organic rosemary, and organic spice blend. These are seriously addictive as far as I'm concerned. Could eat the whole box in one sitting, but forced myself to stop at half a box the first time I tried them. They'd probably be great with dips and spreads, but I may never have them on hand long enough to try them with anything!!
I have also tried the Simple Mills Sprouted Seed Crackers and they're very good, too, but my second choice. I have a feeling most, if not all, of the company's other products are well worth trying, as well.
Ingredients: nut & seed flour blend, cassava, tapioca, organic sunflower oil, organic rosemary, organic onion, organic garlic, sea salt, organic pepper, rosemary extract.
# 7 – Hope Organic Spicy Avocado Hummus and Kale Pesto Hummus….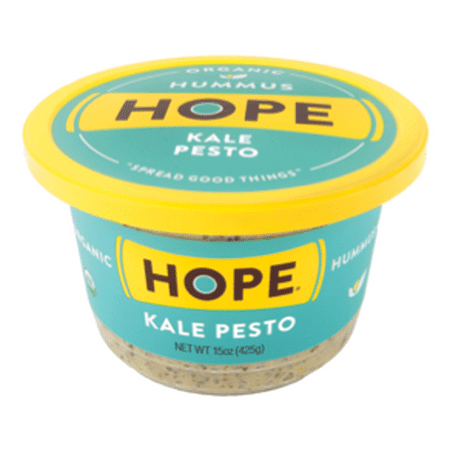 This super healthy spread contains garbanzo beans, kale, extra virgin olive oil, basil, tahini, hemp seeds, onion, garlic, sea salt, lemon juice, citric acid and spices…..all organic! I also like their Organic Spicy Avocado Hummus. In fact, I've gotten to where I can't decide which I like best, so often I have some of each.
My favorite way to eat them in on toasted Food For Life Organic Sprouted Grain Ezekiel with sesame seeds, spread with a thin layer of Follow Your Heart Grapeseed Oil  Vegenaise, then a thick layer of the hummus and topped with sliced tomatoes, and a little crystal salt and fresh-ground pepper,….. and maybe some broccoli sprouts to up the ante. YUM! Makes a great breakfast, snack or quick lunch.
# 8 – Hail Merry Caramel Sea Salt Bites
Okay, these are probably not the healthiest thing around, but as the package says "Freedom to Indulge" and that's the way I feel when I eat them, …….indulgent without breaking the bank, health-wise. Made with almond flour, organic maple syrup, organic shredded coconut, organic virgin coconut oil, organic coconut sugar, vanilla and Celtic sea salt, they are better for you than a lot of what's out there. Look for them in the refrigerated section of your health food store. The package says 4 servings, but I'm lucky to get 2 out of it. 🙂 Vegan, kosher and non-GMO.
Ingredients: almond flour, organic maple syrup, organic shredded coconut, organic virgin coconut oil, organic coconut sugar, vanilla, Celtic sea salt.
# 9 – Siete Grain-free  Nacho Flavored Tortilla Chips
These are my latest find. If you are trying to avoid or eat less wheat, soy, corn and rice, all of which have their "minuses," this is a very good option. I first tried them just a few weeks ago and was immediately hooked.  I also like the Lime version, but the Nacho ones have a little more taste and kick , in my opinion. The chips themselves almost seem to have a hint of sweetness, if they didn't have the seasonings/spices added. Was thinking that if you're in the mood for a snack that's crunchy and sweet, the plain chips Siete makes would work well with some melted Kerrygold butter drizzled over them and some cinnamon and a little xylitol or Lakanto sprinkled on top.
Dairy, soy and corn free, gluten-free, paleo and vegan friendly, and non-GMO verified, from a family company I like supporting.
Ingredients (for Nacho chips): Cassava flour, avocado oil, coconut flour, ground chia seeds, sea salt, tomato powder, nutritional yeast, smoked serrano powder, citric acid, jalapeno powder, toasted onion powder and roasted garlic powder.
Okay, now it's your turn. Got any favorite foods or products to share? If so, leave a comment with the details so other readers may benefit!
Salud!
p.s. Be sure to give Self-help Health a follow so you don't miss out on future posts. Also check out the To Your Health page at my website Evolution Made Easier and my other blog for more helpful information, tips, tools and resources.
Disclaimer: Please not that any information provided here is as a guideline only, and not meant to substitute for the advice of your physician, nutritionist, trained healthcare practitioner, or inner guidance system. Always consult a professional before undertaking any change to your normal health routine.