Oh, I'm so excited to give this new (to me) Jin Shin Jyutsu hold/flow a try. Like the other ones I've posted about here, it's simple, easy to do and helps with multiple things (eyes, neck & shoulder pain, detoxification, osteoporosis, etc)….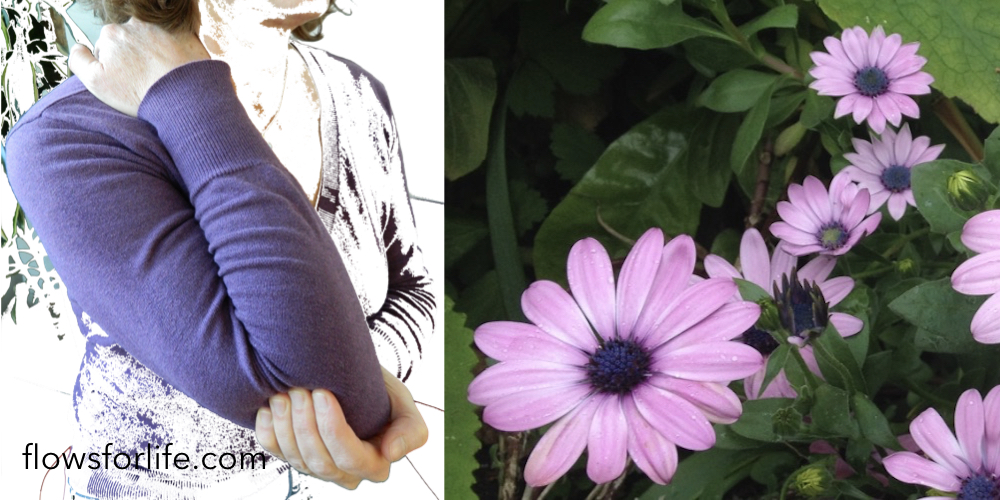 A pain in the neck
Using Jin Shin Jyutsu, the neck and shoulders can be released relatively quickly.
It's about how the energy travels in the body
This is because we all have an energy pathway that crosses the shoulders and hips, traveling up and down the arms into the middle fingers and also traveling up and down the legs doing kind of a "loop de loop" all over the body. This energy also goes round the head and around the chest.
This simple self help exercise does so much
This little gem of a self help hold that I learned and often use, does many things as it
* eases a stiff neck and shoulder pain
* alleviates pain down the arm, in the elbow, in the hand & fingers
* detoxes the body
* helps protect the body against osteoporosis
* eases aches and pains in the body (also fibromyalgia)
* lubricates the joints (so good for knee pain, elbow pain)
* and even helps with all arthritic "projects"/problems
* helps the skeletal structure
* helps the eyes
A gem of a hold
Place left hand over left shoulder and right hand on the left elbow crease. For the other side, place right hand over right shoulder and left hand on the right elbow crease.
Do this self help hold every day for a few minutes to 'clean', and within a short time you'll definitely notice a difference in your neck and shoulders.
If you are working on a project/issue like fibromyalgia, then hold for a minimum of 20 minutes each side or until there is relief.
If you find it difficult to do the side that is tense or uncomfortable, start by working on the other side. So, say the right shoulder and neck hurts. Do the exercise on the left side until you can comfortably do the hold on the right side.
This is one of my absolute favorite holds because it is so simple, yet helps so much! I have used it  many times on myself and in my practice.
In this video, Astrid explains the exercise (actual instructions about the hold start around the 3 minute mark)
Source: https://www.flowsforlife.com/self-help-stiff-neck-shoulder-pain/
You might also like to check out Astrid's Hands on Self help Mini eCourse and/or her free download self-help guide.
Related Self-help Health posts: Jin Shin Jyutsu  and Prime Mover
---
Also, I just found out yesterday that Deepak Chopra and Oprah Winfrey (or "Deeprah" as I like to refer to them :-)) are offering another one of their free 21-day meditation series, and this time the topic/focus is Perfect Health. I always enjoy their series and this one is sure to be filled with lots of wisdom about how to create and maintain conscious well-being. Plus, meditating in and of itself is a great health aid, and Deepak's voice is so soothing and relaxing to listen to, so I'm definitely looking forward to Feb 3rd . 🙂
You can sign-up here: https://chopracentermeditation.com
  Salud!
p.s. Be sure to give Self-help Health a follow so you don't miss out on any future posts. Also check out the To Your Health page at my website Evolution Made Easier and my other blog for more helpful information, tips, tools and resources.
Disclaimer: Please note that any information here is provided as a guideline only, and is not meant to substitute for the advice of your physician, nutritionist, trained healthcare practitioner, and/or inner guidance system. Always consult a professional before undertaking any change to your normal health routine.