Oh, I was so glad to find this article from Astrid at FlowsforLife.com in my inbox recently. I used to do this particular Jin Shin Jyutsu routine/flow on a regular basis, but somehow got out of the habit somewhere along the way. It was always a favorite of mine,…. it helps with so many different things, plus is easy and comfortable to do. I usually did it while lying in bed first thing in the morning, or sometimes before going to sleep at night…or when I would wake up in the middle of night, because it helped me get back to sleep.
If you want to give yourself a little break during the day, try this routine and hold any or all positions that seem pertinent at the time. And as we head into winter, at least in my part of the country, this is a great one for tuning up the body and strengthening your life force energy. Circulation, heart health, thyroid and parathyroid, mental clarity, spine, stomach, metabolism and more….Main Central's got you covered!
PERSONAL TIP: When doing this routine, make sure you are as comfortable as possible, so you can sink into the full relaxation response Main Central will trigger in your body. Usually my muscles begin to let go and my breathing slows and deepens within a minute or two of starting this "flow." To make myself extra comfortable, I put a pillow under my right arm to help hold it in position w/ my hand on my head and pull the covers up over it to make sure that part of my body stays warm in the winter. And I use a small Vibes Up therapy teddy bear under my left arm/elbow/wrist, depending on the point being held by my left hand/fingers. What's cool is the bear not only supports my arm position, but also just so happens to add additional balancing/harmonizing and grounding energies to the body! Good deal!
–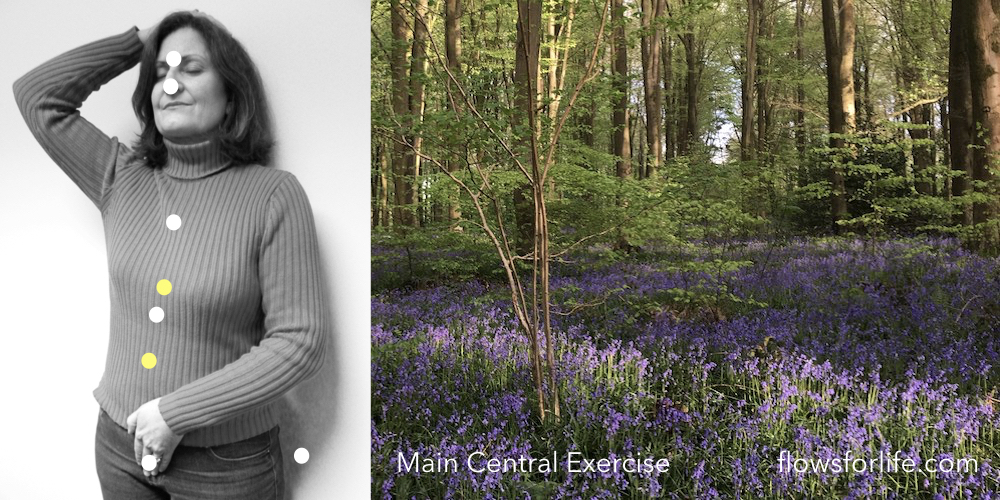 In Jin Shin Jyutsu, the Main Central IS the Source of Life. This is the energy that goes DOWN the FRONT of our body and UP the BACK. Main Central feeds all of our 144,000 energy functions. I liken it to the trunk of the energetic tree.
Be comfortable
To practise Main Central get into a comfortable position. You can do the exercise sitting down, but I prefer to lie down and support my arms (especially my right arm as it's going to be in the same position for a while) with pillows and cushions. Hold each position for a few minutes each, or as long as you like! Some positions will feel so comfortable, you might spend an hour just in one hold.
There aren't any rules – just enjoy!
Jin Shin Jyutsu Main Central Exercise
In this exercise, the right hand will remain on top of the head until the last hold when it moves to the coccyx, and the left hand moves down the front of the body as explained.
Top Tip
You can do the whole exercise or just choose the position that feels right for you in the moment. For instance, you might want to clear the head, so you could practice just the first position for a few minutes.
Clear the head
Position 1: Place Right Hand/Fingers on Top of Head
Maintain the right hand in this position during the routine through Positions 1 to 7.
AND
Place Left Fingers between Eyebrows
The Vital Force of Total Being. Revitalizes the deep energy circulation, improves memory, dissipates senility, harmonizes the pituitary gland and the pineal gland, controls blood pressure.
Release the pelvic girdle
Position 2: Place Left Fingers on Tip of Nose
Revitalizes superficial body energy circulation, releases tension in the pelvic girdle and reproductive organs.
Prevent heart attack
Position 3: Place Left Fingers on Center of Chest on the Sternum
Look for the 'bump' on the sternum, and place your fingers there. Revitalizes the Thyroid and Parathyroid; helps with facial muscular problems, helps prevent heart attacks, strokes, etc. Regulates metabolism and maintains mental balance. Helps us adapt to our surroundings and situations.
Help the immune system
Position 4: Place Left Fingers between Breasts on Sternum
Revitalizes the immune system for the prevention of cancer, AIDS, etc. Assists in child growth and mental development. Governs reproduction, generative and regenerative functions. Relieves nausea and anxiety. Assists with breathing.
Support the adrenals
Position 5: Place Left Fingers at Base of Sternum
The Controller of Human Destiny. Revitalizes the energy path of the spleen and the adrenals, assists in the secretion of digestive juices and hormones. Gateway to the solar energy system revitalizing the nervous system. Prevents diabetes.
Tone the abdominal muscles
Position 6: Place Left Fingers about an Inch above the Belly Button
Revitalizes abdominal muscle tone and intestinal function.
Strengthen the spine
Position 7: Place Left Fingers on Pubic Bone
Revitalizes the descending energy (down the front). Helps strengthen the spine.
Aid circulation in the legs and feet
Position 8: Right Hand moves from Top of Head to Base of Spine (Coccyx). Revitalizes the ascending energy (up the back), helps circulation in the legs and feet, helps cold and clammy hands and feet. Alleviates menstrual cramps.
Source: https://www.flowsforlife.com/exercise-the-main-central-source-of-life/
Related Self-help Health posts: Prime Mover & Jin Shin Jyutsu
Salud!
p.s. Be sure to subscribe to Self-help Health so you don't miss any future posts, and tell your friends to do the same. Also check out my website's To Your Health page and Evolution Made Easier blog for more helpful health tips, tools and information.
Disclaimer: Please note that any information here is provided as a guideline only, and is not meant to substitute for the advice of your physician, nutritionist, trained healthcare practitioner, and/or inner guidance system. Always consult a professional/your inner knowing before undertaking any change to your normal health routine.