This could well become a new favorite for the winter and holiday season and beyond. Sounds yummy AND healthy, ….a combination that's hard to beat! And be sure you use Ceylon cinnamon in the recipe and for your future cooking needs. I've read several articles about how "regular" cinnamon is not only of inferior quality and taste, but also could cause health problems when eaten in certain amounts. Yes, the Ceylon variety is more expensive, but you and your body deserve it! I've been using it for several years now and am glad I made the switch.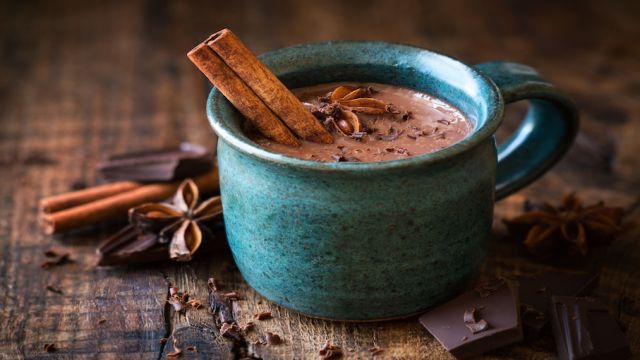 Get Your Hot Chocolate Fix and Smash Chronic Inflammation at the Same Time
The Ingredients
The superpowers of the ingredients of this creamy and delicious hot chocolate are what make this drink so incredibly nutritious and delicious.

Dark Chocolate
Who doesn't love dark chocolate? Research shows that dark chocolate can decrease stress and inflammation while boosting immunity and improving your mood and memory.
Dark chocolate is good for your skin
Want protection from damaging ultraviolet rays? Science says, eat more dark chocolate. Cacao beans contain eight times the number of antioxidants found in strawberries. These antioxidants protect skin and combat free radicals that contribute to signs of aging.
Raw cacao is loaded with healthy fats 
The fats that raw cacao contains also support well-being. They include oleic acid, a monounsaturated fat that is also found in olive and coconut oils. They also include saturated fats, which the body needs to function properly.
Dark chocolate is good for your heart
Minerals in cacao also contribute to the health of the cardiovascular system. One study, published by Science Daily found that eating 6.7 grams of chocolate per day had a protective effect on heart health.
Dark chocolate improves your mood
Cacao also contains phenylethylamine (PEA), which affects brain chemistry in a similar fashion to falling in love. Cacao has been linked to increasing the availability of neurotransmitters such as serotonin, which can elevate your mood and even lessen depression

Turmeric
This superstar spice is gaining quite a following in the alternative health community and beyond. Researchers from all over the world have studied this ancient Indian spice for it's powerful, seemingly endless list of beneficial properties. In fact, turmeric has been featured in more than 5,600 studies to date, with new findings coming out regularly.
Turmeric is a super inflammation buster
Among its many benefits, turmeric is best known for its ability to treat chronic inflammation, something we all deal with from time to time. The active compound it contains — curcumin — has powerful anti-inflammatory properties similar to over-the-counter medications. Wow!
Scientists are finding an astonishing array of antioxidant, anticancer, antiviral, antibiotic, anti-fungal and antibacterial properties. As an immune system booster, turmeric is five to eight times stronger than vitamin C and E.
Turmeric contains powerful antioxidants
Studies show that curcumin, the principal curcuminoid of turmeric, inserts itself into cell membranes where it does a little housecleaning and reorganizing, adding vibrancy to the cell itself. Suddenly a disorganized cell becomes organized, allowing information to flow through it so it can function more effectively. The result of this action increases the cell's resistance to infection, malignancy and more!

Coconut Oil
Coconut oil has certainly earned its superfood designation. What the people of the tropics have known for so very long is finally becoming evident to the masses. Loaded with therapeutic properties, this is one saturated fat you want to include in your diet.
Coconut oil reduces inflammation
Research shows that the antioxidants in coconut oil can reduce inflammation and effectively treat arthritis more effectively than leading medications.
Coconut oil is great for energy
According to research, 50% of fats found in coconut oil are MCTs such as lauric acid that is easily absorbed by the intestine and can be used by the body to make energy.
Coconut oil can protect you from harmful bacteria and pathogens
Coconut oil contains two anti-viral properties, lauric acid, and caprylic acid. Both of these compounds are known for their ability to fight candida overgrowth and bacterial infections. Coconut oil has been found to prevent a number of viruses and pathogens including influenza, herpes, helicobacter pylori, and dangerous protozoa such as giardia lamblia.
Coconut oil boosts metabolism
Coconut oil contains medium chain fats that have a thermogenic effect which allows them to increase fat burning when compared to the same calories found in other fats. One study  found that eating just 1 to 2 tablespoons of medium chain fats per day increased energy expenditure by 5% or 120 calories per day. Additional research confirms that when humans replace the fats they are consuming with medium chain fats they burn more calories.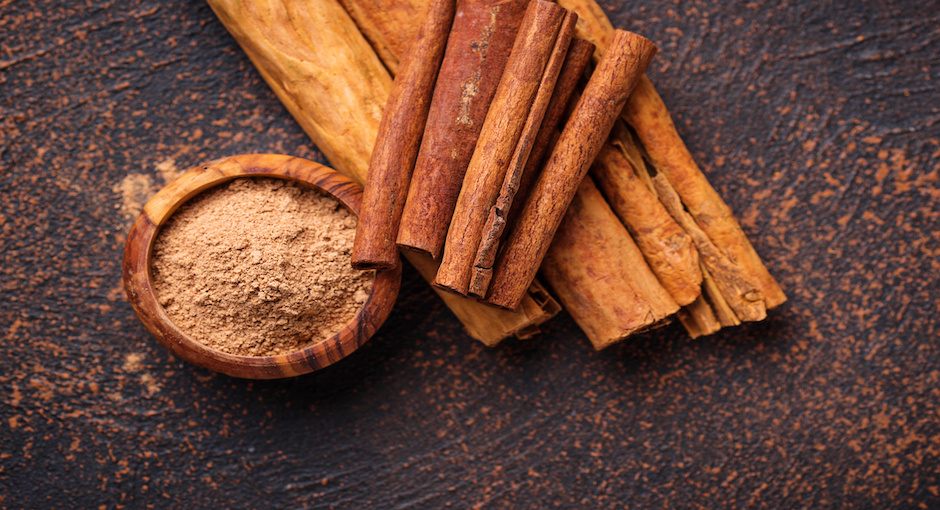 Ceylon cinnamon the bonus spice
This hot chocolate drink contains Ceylon cinnamon, a delicious and health-promoting spice. Ceylon cinnamon is loaded with phenolic compounds, flavonoids, and antioxidants. This is what makes this spice one of the most beneficial spices on earth, with powerful antioxidant, anti-diabetic, anti-microbial, anti-inflammatory, and immune-boosting powers.
The Recipe
Here is the best dark chocolate recipe on the planet, hand's down. Your whole family will be asking for seconds. Finally, a hot chocolate you can feel good about drinking.
Ingredients:
16 ounces unsweetened vanilla coconut milk
1 Tbsp. + 1 tsp. cocoa powder
3/4 tsp. ground turmeric
1/4 tsp. ground ginger
1 tsp. Ceylon cinnamon
Pinch of black pepper & ground nutmeg
2 tsp. local raw honey
2-3 tsp. coconut oil
How to make it:
Warm the coconut milk until it is just lightly simmering.
Add cocoa, turmeric, ginger, cinnamon, pepper, honey, and coconut oil.
Use an immersion blender to combine
Top with organic heavy whipping cream (or whipped coconut cream) and sprinkle with more cinnamon and grated dark chocolate.
Enjoy this amazingly delicious and healthy treat!
Related Self-help Health posts:
FYI, you can get most of the ingredients for this recipe at a discount at iHerb.com (use code CJG192 if you are a new customer and spend more than $40 and you will get $5 off your purchase). Plus, there's no sales tax, shipping is free on orders of $20 or more, you earn loyalty rewards cash, AND you get an extra 5% off on orders over $60. 
Vitacost.com is another one of my favorite on-line places to shop. Great discount prices, ever-expanding inventory, free shipping on $49 and up, and if you are a new customer and use the link on my website you will get a $10 off coupon with your first order of $25 or more. Woo-hoo! 
Salud!
p.s. Be sure to subscribe to Self-help Health so you don't miss any future posts, and tell your friends to do the same. Also check out my website's To Your Health page and Evolution Made Easier blog for more helpful health tips, tools and information.
Disclaimer: Please note that any information here is provided as a guideline only, and is not meant to substitute for the advice of your physician, nutritionist, trained health care practitioner, and/or inner guidance system. Always consult a professional before undertaking any change to your normal health routine.